Ask BEN: Spring 2018 Edition
Biodiesel Exceeds Expectations in Laboratory Testing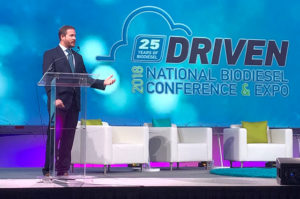 LAKEWOOD, CO –  Earl Christensen, Senior Scientist at the National Renewable Energy Laboratory (NREL), and his colleagues have done extensive testing on the fuel over the last eight years, and the findings have surprised him. "As we did more and more long-term storage testing, I was just floored at how stable all these samples were," he said. "Biodiesel can be very stable and can be stored for a long time, especially as a blend, so we have started looking at longer storage times and more storage scenarios."
The National Biodiesel Board (NBB) has honored Christensen twice within the last year for his achievements. At the Biodiesel Technical Workshop in November 2017, Christensen was named Biodiesel Researcher of the Year. Then at the 2018 Biodiesel convention, NBB honored him with the Eye on Biodiesel Innovation Award.
Christensen's tests indicate that biodiesel can achieve a stable shelf life of one to three years on its own, depending on the specifications of the particular fuel. "The composition of the biodiesel itself is important. The more unsaturated a fuel is, the faster it is going to oxidize, so unsaturated products like linseed oil and fish oil won't have as long of a shelf life as something like butter, but butter is a solid at room temperature, so there is always this balance between cold flow and stability.
"A completely saturated molecule can't have good cold flow, while an unsaturated molecule has great cold flow but starts to lose stability. The secondary factor that really plays into this is antioxidants, and that's how you get the really long shelf life with more unsaturated compounds, by adding antioxidants. You tune that composition with the different types of feedstocks and additives you use."
Producers of high-quality biodiesel are adept at adjusting fuel specifications for the intended applications, Christensen said, and fuel buyers can generally specify the stability standard they need. The fuel's certificate analysis will include the oil stability index (OSI), which is a reliable indicator of stability. "As long as it's on spec, you can count on it being fine for six months or a year. In longer-term scenarios, that where's you monitor the fuel," he said.
"If you have fuel going into long-term storage, either petroleum diesel or a biodiesel blend, you have to test it when it shows up, and if it's not on spec, it doesn't go in the storage tank," Christensen said. "Even if it is on spec, they put additives in it to make sure it stays stable, and then they monitor it. Even petroleum diesel does not have an infinite shelf life."
Users can test the fuel's oxidation reserve periodically and be confident they will detect an early warning sign before there is a problem with the fuel. "You could teach anyone to run this test," Christensen said. "It is incredibly easy to do. Every six months or a year, depending on how long you have to store it, you should check the stability."
If the oxygen reserve is low, users can add more antioxidants to extend the fuel's life, which mirrors common practices for many petroleum products. "Once you have a fuel that is in storage for a while, and you see the stability start to drop, you add a certain amount of additive and mix or churn it to disperse it, and this extends the useful life of the fuel," he said.
Christensen's work is very important to fuel distributors and users. "The fuel users are very interested. I am a lab chemist, so it's valuable to me when people come up to me after a presentation and share their experiences about what happens in the field."
OEMs also pay close attention. "They have a huge vested interest in the quality of the fuels going through their vehicles. They don't need to be having any problems with their cars based on fuels."
Every situation is different. For example, the National Fire Protection Association (NFPA) requires that biodiesel blends used for fire suppression systems be periodically tested. NREL is working to improve the testing standards the NFPA uses to ensure that test results are reliable. A reliable testing regimen could even enable the use of biodiesel in ultra-sensitive applications such as backup power for a nuclear power facility.
"We want to be able to give people the tools they need" to trust biodiesel, he said. "It's unfortunate that a lot of people have it in their minds that diesel fuel itself is good forever. That's not necessarily the case, and there might even be some overlooked issues there that might be worth looking into as well."
Most of his work has been on blends of up to B20, but that is changing. "You're starting to see a lot of interest in blends up to B50 and even in applications of B100, particularly in home heating," he said. "In theory, there really shouldn't be a difficult transition. There might be considerations about materials compatibility for seals that weren't designed for these fuels, but for actual combustion, I don't see too much difficulty moving up."
Christensen's work at NREL has given him a strong appreciation of biodiesel. "I'm pretty neutral on how we reduce the amount of petroleum we use, but from what I've seen of biodiesel, I think it is a really great path for us to supplement our diesel usage in a way that reduces emissions and ultimately gets us all to where we want to be."

He believes biodiesel should play a larger role in the energy mix going forward. "It doesn't take a whole lot of energy to make, and we've got plenty of oil to make it from," he said. "It absolutely deserves to grow as far as it can go."
---
5 Reasons for Fleets to Consider Biodiesel Blends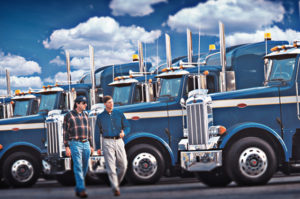 AMES, IA –  Biofuels are a reality for today's fleets. Should you use them, should you not? To find some clarity on the matter, Troy Shoen, senior manager of marketing for Renewable Energy Group Inc., sounded off on five ways biodiesel can help your fleet.
1. Performance
Fleets throughout North America are running on biodiesel blends of up to 20%. They wouldn't be doing that if the renewable fuel hurt their performance. Biodiesel does not harm engines, and it can actually outperform petroleum diesel in some areas. For instance, the ASTM specification for biodiesel requires a minimum Cetane number of 47. The ASTM diesel spec is 40. Higher cetane equals a shorter ignition time and better performance. Also, the removal of sulfur in ULSD also took the lubricity out of the fuel. Adding as little as 2% biodiesel—a B2 blend—can double the amount of lubricity in the fuel. This too is critical for performance because modern diesel engines rely, in part, on fuel to aid in the lubricating process.
2. Emissions
Biodiesel blends can significantly lower a fleet's emissions, as Dr. Dave Slade of REG noted in a recent Fleet Equipment column. A B20 blend has been shown to reduce particulate matter and carbon monoxide emissions by more than 10% and unburned hydrocarbons by more than 20% in heavy-duty highway engines. Public and private fleets are increasingly facing pressure from internal and external stakeholders to reduce their carbon footprints. Biodiesel is a potential solution for them.
3. Business advantage
This is largely related to biodiesel's environmental advantage over petroleum. Today, it's common for companies and governments to have sustainability plans that apply to both their operations and the vendors they use. Walmart, for example, has a stated goal of reducing emissions in its supply chain by 1 gigaton by 2030. Another example comes from for-hire carrier G&D Integrated, which says RFPs are now asking about sustainability initiatives. They have even won business for their use of biodiesel blends.
4. Financial incentives
Besides giving you an advantage in bidding for jobs, biodiesel can sometimes pay off just with its use. Several states offer financial incentives for the blending, use or sale of biodiesel. Illinois, for example, offers a 20% exemption from the state's 6.25% sales tax for biodiesel blends of 1 to 10%. That increases to a full exemption of the sales tax for blends of 11% or more. The federal government also has biodiesel incentives.

5. Easy implementation
Want to start running your tractor trailer or work truck on B20? Just pump it into your tank. Biodiesel blends don't require any vehicle upgrades. If you operate your own fueling site, biodiesel is also an easy switch from a supply and infrastructure standpoint. If you want blended fuel, ask your current diesel supplier if they can get you product. Some biodiesel producers, including REG, also supply blended fuel. If you plan to do your own blending, you will need a dedicated biodiesel storage tank and blending system. While the initial cost may seem expensive, the return on investment is often achieved in only six to 18 months.
---
SeQuential Demonstrates the Carbon-Reducing Power of Biodiesel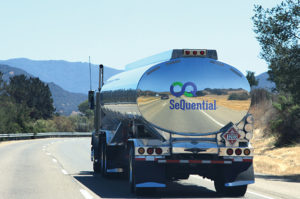 EUGENE, OR – Carbon reduction matters to environmentally conscious consumers, and they will use their buying power to make it happen. If a fuel company can claim an 85% reduction in carbon intensity vs. petroleum, it stands to attract a lot of activist customers.
That is exactly the value proposition at SeQuential. The Eugene, OR-based biodiesel company is achieving an outstanding "carbon score" by collecting used cooking oil, refining it efficiently, and selling finished product to both wholesale and retail channels across a tight geographical footprint.
SeQuential is systematic about driving down carbon intensity, according to co-founder and CEO Tyson Keever. "Our feedstocks are 99.9% used cooking oils. We use B99 in our trucks. We have solar panels on the roof of our production facility, and we have really high yields and methanol recovery. We also have the greatest high-density concentration in the country of stations that sell B20 or above, so we have a really low carbon score on the delivery component."
SeQuential now produces more than 8.4 million gallons a year and supplies 100 locations, but they started small. "A bunch of guys got together in 1998 and formed a club called Eugene Biosource," Keever explained. "We were home-brewing biodiesel in the garage, with a 55-gallon drum and a boat loader."
In 2002, Keever co-founded SeQuential, using financing from friends and family. "We bought a truck and began delivering biodiesel to people's homes in 55-gallon drums with little hand-cranked pumps," he said. "We also did 'parked retail,' where we parked at a certain spot for four hours as a kind of mobile retail pump for people's cars."
SeQuential partnered with Pacific Biodiesel in 2005 to build a 1-million-gallon plant in Eugene. Then in 2008, they built a new, larger plant, and they have since tripled its capacity to 17 million gallons a year, while also acquiring 15 cooking oil and rendering companies. "We now collect from the Mexican border to the Canadian border," Keever said. "Our tagline has evolved to be, 'Collect, refine, refuel,' which reflects our model of vertical integration."
The disciplined focus on reducing carbon intensity is a reflection of Keever's nature. "This is the way I like to approach life. I got my degree in planning. My wife is a planner. We invest in good equipment. Our core values are innovation, relationships, results, and — one of my favorites — conscientiousness. We look at the big picture and build the company to last."
Building the business has been a pleasure. "We've got a great team and a great community around us, and I think we are demonstrating that the economy and the environment can work together to create jobs and clean tailpipes," he said. "I feel good about going to work every day."
SeQuential is a BQ-9000 producer and marketer. "I was resistant to that at first, but going through the process has made us a better company and standardized a lot of our procedures. I think it is incredibly important and has done a lot to advance the industry. Customers want to trust what they are buying, and BQ-9000 has helped resellers — the people who touch the fuel — with their handling of it."
Oregon customers have come to appreciate SeQuential's style. "We have spent a lot of time and energy trying to simplify the value proposition. We collect, refine and refuel and put that back in the tank, and we tell a simple about building a better energy model. "A lot of consumers are searching out better choices, whether they're buying direct carbon offsets, or a hybrid electric car, or paying for a solar installation on their house."
Sequential has been trying to mirror the organic produce movement. "People are searching out organic food and the values that go with it, like sustainability and the health aspects. I think that same theory and mindset applies here, and that's why biodiesel is such a compelling offering."
Oregon is highly supportive of biodiesel, according to Keever. "The state has done a great job. Every gallon of diesel sold here has 5% biodiesel in it. That breaks down a lot of resistance from OEMs and petroleum industry who were saying, 'Oh no. You can't go that high.' Oregon is a cold state. We have a lot of regions that get down below zero for an extended period of time, and we have proved that that works."
He believes the biodiesel industry can do more to market its products effectively. "We need to sell the molecule. We need to spend more time working on selling higher blends beyond B5, beyond B10 and really push for a B20 standard," he said. "Biodiesel has 78% less CO2 on average than petroleum diesel, and our product has 15% of the carbon intensity of that petroleum diesel! It's a way better product, but we need to do more as an industry to sell the molecule, push higher blends, get manufacturers on board, and get the traditional fuel distribution infrastructure more comfortable with higher blends."
SeQuential enables wholesale customers to customize the fuel they buy. "We have a few terminal positions with inline rack blending, so we can offer any blend you want. We have a dozen or so pumps that offer B99 and blend down to B50 and B20 as the weather gets really cold."
During winter, the company proactively adjusts its dispensers and works with wholesale customers to blend down their tanks. "We want to make it an easy process for them, and the best winterizing agent available now, unfortunately, is petroleum diesel." Years of experience have shown SeQuential and its customers that B20 works well year-round, even in the dead of winter.

Keever sees an important role for biodiesel going forward. "Biodiesel isn't the be-all and end-all, but it is a very good, logical next step. It is an available solution that works in our current infrastructure and vehicles today. It has immediate impact, and it's a clear contributor as part of a comprehensive solution. In order to have a healthy, diversified energy supply, we need to look at all the different energy sources out there. Biodiesel has a seat at the table and earns it."
---
NYOHA Helps Build a Major Biodiesel Market in NYC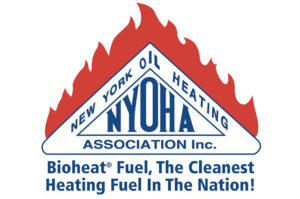 NEW YORK, NY – Every movement needs its allies, and biodiesel has some of its most important backers in New York City.
The largest city in the United States has been a bold leader in biodiesel adoption, and one of the key players is the New York Oil Heating Association. NYOHA's Board of Directors and their Chief Executive Officer Rocco L. Lacertosa and his predecessor, John Maniscalco have made the association an essential and vocal supporter of biodiesel blending.
"We exist to serve our members, and incorporating biodiesel in heating oil has been an important part of our mission," Lacertosa said. "Energy suppliers need to be pro-environment these days, or you become a target instead of a participant."
With the oil dealers themselves stepping to the podium time and again and meeting with lawmakers to advocate for new fuel standards, New York's environmentalist policymakers have had the wind at their back.
The results have been phenomenal for the biodiesel industry. Since 2012, New York City has had made biodiesel part of its uniform fuel standard for heating oil, while also adopting biodiesel widely in fleets and setting the stage for Bioheat adoption in three adjacent counties.
The breakthrough event occurred in 2010, when the New York City Council, led by Council Member James Gennaro, adopted legislation changing the city's heating oil standard to B2, effective in 2012. Given the enormous mass of New York's heating oil consumption, a 20-million-gallon biodiesel market was born, and the biodiesel industry had its East Coast beachhead.
While the victory was an immense one, the biodiesel advocates at NYOHA and within the city government were just getting started. The first wave of biodiesel champions, Maniscalco and Gennaro, left the stage with their victories intact, and their mantle was picked up by Lacertosa and City Council Member Costa Constantinides.
In 2016, the City built on its B2 success story by passing the landmark local law Intro 642-A, which changed the heating oil standard to B5 in 2017 and enacted incremental increases that will culminate in a B20 standard in 2034. The City is also using B10 biodiesel in sanitation vehicles and firetrucks, and there is a study under way of biodiesel usage in ferries. "This is a great victory for all New Yorkers and, of course, for our members," said Lacertosa.
NYOHA's successes were closely watched by oil dealers in the greater New York metro area, and in 2017, NYOHA's confederates in the Downstate region led a drive at the Statehouse to make B5 the new fuel standard for Nassau, Suffolk, and Westchester counties effective later this year. Together with New York City, the region is home to 1.3 million oil-heated homes.
The switch to B5 in New York City alone raised biodiesel demand to 50 million gallons last year. As the adjacent counties come online and the City's biodiesel blend standard increases to B20, the biodiesel industry will have a concentrated market measured in hundreds of millions of gallons.
When NYOHA first emerged as the leading voice for biodiesel blending, its members were acting in self-interest. Heating oil had a target on its back, because environmentalists were pushing hard to reduce harmful emissions from the City. The long-running pursuit of cleaner air was converging with the emerging sentiment to make the city a leader in climate change, and petroleum was in the crosshairs.
Rather than sit back and let others decide their fate according to their petroleum-hostile agendas, NYOHA's leadership elected to push for a seat at the table. The association showed the region's environmental advocates that they could make great progress by addressing fuel quality instead of focusing exclusively on fuel conversion.
"The City wanted to clean up this environment, and we found this way to do it" Lacertosa said. "We succeeded in positioning our dealers and their cleaner fuel as an important part of the solution. Bioheat is a great way to improve the environmental performance of the equipment that is already in place at thousands of locations throughout the City."
NYOHA successfully pursued two vital changes to fuel standards. One was blending biodiesel into the fuel, and the other was reducing the sulfur content. On-road diesel and other distillates were already in the process of converting over to ultra-low sulfur, as mandated by the U.S. Environmental Protection Agency (EPA), and the oil dealers saw an important opportunity. NYOHA and the state's other OIlheat associations successfully pressed the state to make ultra-low sulfur (15 parts per million) the standard for heating oil statewide.
With both victories in hand, New York City became the home of what NYOHA called "Clean 2," a one-of-a-kind ultra-low-sulfur Bioheat® Fuel blend that was the cleanest heating oil sold anywhere in the country.
"We are now the epicenter of this whole movement, and we have built a great market for biodiesel," Lacertosa said. "There was some hesitation in the beginning, but now everyone seems to have warmed up and embraced it," he said.
Biodiesel suppliers have taken advantage of the Bioheat standard to build out a robust infrastructure of terminals around the City. "As far as I know, no one has had any trouble securing biodiesel supply," Lacertosa said. The city's legislation calls for waivers of biodiesel requirements in an emergency, and that option was invoked in the wake of Hurricane Sandy in 2012. "We were having trouble just getting diesel into New York Harbor at that time," Lacertosa said.
Through its advocacy, NYOHA has gained an impressive list of political allies, such as the National Resource Defense Council (NRDC) and the New York League of Conservation Voters, who have welcomed the oil dealers' leadership on the environment.
NYOHA can never rest on its laurels, according to Lacertosa. "The mayor and the governor are no fans of fossil fuels, and we have our work cut out. But the more biodiesel we blend, the more petroleum we take out of the system, so that can only help."
The National Biodiesel Board (NBB) has supported NYOHA every step of the way and expressed its gratitude. In 2016, the Board honored Maniscalco with a Biodiesel Pioneer award, and last year Constantinides won a Climate Leader award from NBB.

"We have been trendsetters all along on biodiesel," said Lacertosa. "I definitely see biodiesel continuing to grow, and it is great to be out front on this."
---
Biodiesel Helps Make Harvard a Model Institution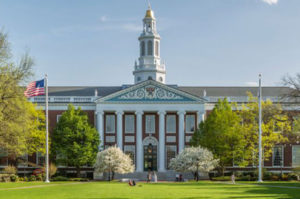 CAMBRIDGE, MA. – Harvard University strives to be a leader in sustainability among universities and institutions, and biodiesel is an important component of its clean energy portfolio.
The Cambridge, MA, university has an Office of Sustainability that sets standards for the university and has published a 36-page guide for all departments to follow. Harvard President Drew Gilpin Faust tours the country and the world to talk about sustainability at universities and other institutions.
Harvard's attention to sustainable practices and greenhouse gas reduction spans all aspects of campus life, including the university's 300-vehicle fleet, which includes buses, cars, and work vehicles. Since 2004, the university has been running all its diesel vehicles on a B20 biodiesel blend, according to David Harris, Harvard's Director of Transit and Fleet Management. "Students like to know that the university is embracing sustainability and that the shuttle buses they ride are powered by biodiesel," he said. "Sustainability is an expected goal and practice."
The biodiesel program has earned the university recognition as a leader on the environment. In 2008, the National Biodiesel Board honored Harvard with an Inspiration award, and in 2016, the U.S. Environmental Protection Agency's Region 1 bestowed an Environmental Merit award on the university for its outstanding efforts in promoting New England's environment.
The Office of Sustainability is a fairly recent creation that grew out of Harvard's 2004 Green Campus initiative. During that initial push, Harris answer the call with a proposal to convert Harvard's 90 diesel-fueled vehicles to B20 biodiesel. The university green-lighted the project, and the fleet manager signed up World Energy and Dennis K. Burke as fueling partners.
"In 2004, biodiesel was not widely accepted," Harris said. "We started out using biodiesel in 55-gallon drums and putting it only in vehicles that were beyond their manufacturer's warranty, so that we couldn't be caught short. Once we had used biodiesel in a couple of shuttle buses for a while and validated that it did not pose any risks to the engines or to the fuel's cold flow properties, we made the calculated risk that we would use B20 in our university's vehicles."
The fleet department set up a 24-hour self-service biodiesel fueling station with a 2,000-gallon dedicated outdoor tank, and quickly emerged as a leading biodiesel user in the region. World Energy supplied virgin stock vegetable oil at the outset, to help Harvard comply with the ASTM standard that was recommended at the time by the National Biodiesel Board. Dennis K. Burke created the B20 blends.
"Back then we were looking for a fuel that was renewable and cleaner burning, and we were looking to reduce our dependence on foreign oil," Harris explained. Before making the switch to B20, he had looked into compressed natural gas (CNG), which was the only competing option. "The infrastructure costs for CNG were too high," he said. "You would have to transition over and retrofit your equipment and your facilities. It was certainly cost prohibitive.
"It was much more cost effective to go with biodiesel, because we already had diesel vehicles in our fleet, and we could source a cleaner-burning fuel that was renewable and helped reduce our dependence on foreign fuel. With Harvard preferring to be on the leading edge, whether in education or in the services provided, we certainly had the support of the university to look at these alternative fuels and build the fueling station."
He likes the way that biodiesel drops right into the diesel fleet fueling process. "Biodiesel is an easy solution to becoming green," he said. "You can use it in your heating oil and in your vehicles. You don't have to buy new vehicles."
In 2006, the AltWheels alternative fuel convention honored Harvard as the highest-volume biodiesel fleet in Massachusetts. Now the university is not even in the Top 5 for the state. "That sort of tells a story about biodiesel gaining acceptance, and I like to think we're a part of that," Harris said. "It's nice to think we helped raise the visibility and prove that that it could be done."
Harris has enjoyed sharing his experiences with fleet managers at other universities and institutions. Harvard has a lot to offer by way of guidance, because the university not only fuels with biodiesel, but also performs its own vehicle maintenance. "There have been no problems at all," Harris said. "I can count on one hand all the cold flow challenges we've had in 13 years, and they are not unlike what any diesel user would have. Engine problems have also been non-existent. Every vehicle we have procured or leased since 2004 has gone through its lifecycle without any mechanical challenges related to the use of biodiesel."
By the end of 2014, Harvard had used a cumulative total or more than 1 million gallons of B20 fuel and continues to use about 100,000 gallons per year. Harris is pleased to use a fuel that benefits the environment and economy is so many ways. "When you go to a biodiesel event and hear the farmers say how biodiesel gives them a market for soy oil beyond the cosmetics market, that's great. Biodiesel supports a whole supply chain and creates jobs. It's good for the country, and clean-burning, and it is part of why we are not so dependent on foreign oil. I hope it will continue to play a part on our energy independence."
Harris would like see biodiesel integrated into the fuel market as completely as ethanol is. "The only challenge that exists today is getting biodiesel in your fuel," he said. "When you go to the pump in Massachusetts, you're mandated to buy up to 10% ethanol, but you don't have that kind of mandate for biodiesel, so retail availability of biodiesel remains very limited. In most cases, you need to source it yourself and have your own dispensing facilities. To the extent you have to build your own fueling infrastructure, that's probably the one challenge people face in trying to use more biodiesel."
Monthly biomass-based diesel D4 RIN generation so far this year peaked in June at nearly 263 million gallons, which includes domestic and imported volumes, according to EPA's EMTS data. The lowest reported month of production this year was January, at nearly 126 million gallons.
If he owned a diesel vehicle, he would like to be able to drive it coast to coast and find biodiesel at every filling station. "Even as we find cheaper ways to extract oil and become exporters of oil, we can still find a place for biodiesel, because it's a sustainable fuel," he said.
---
Upcoming Events
Eastern Energy Expo
May 20-23, 2018
Foxwoods Resort Casino
Mashantucket, CT
http://easternenergyexpo.com
2018 Advanced Biofuels Conference
June 11-13, 2018
CenturyLink Center Omaha
Omaha, Nebraska
http://www.advancedbiofuelsconference.com