Spring 2016 Biodiesel Education News: Biodiesel Capacity is Robust. Moving it May be our Challenge.
Domestic Biodiesel by Rail: NBB Task Group Eyes Opportunity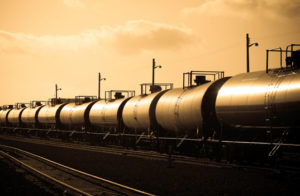 The National Biodiesel Board has formed a task group to examine the feasibility of transporting large volumes of biodiesel by rail from the Midwest to satisfy growing demand along the Eastern Seaboard.
The group, comprised of domestic biodiesel producers, industry leaders and rail professionals, has been plotting the locations of U.S. biodiesel producers, rail lines, transloaders and oil terminals in an effort to determine the most efficient and sustainable methods of moving biodiesel produced in the central U.S. to storage facilities on the East Coast.
With more than 3.1 billion gallons of installed domestic production capacity and roughly 2 billion gallons of actual production, NBB maintains that there is more than enough U.S. production capacity to meet domestic demand. The challenge lies in moving biodiesel from the Midwest, where most of it is produced, to the East Coast, where demand is growing due in large part to the emergence of Bioheat® fuel as a mainstream heating product.
NBB petroleum liaison Paul Nazzaro, who leads the group's efforts, said that while they're not ready to put forth any proposals, he is confident that there's a way to reduce dependency on foreign biodiesel by bringing domestic product by rail to seaport markets on the East Coast.
In order to successfully introduce more domestic biodiesel into the heating oil blend pool, he said, suppliers will need to act proactively in:
Forecasting future Bioheat demand,
Optimizing rail efficiencies,
Identifying viable storage systems, and
Marketing the product to create demand.
Nazzaro added that if and when the blenders tax credit moves to the production level, almost half of the dollar credit will have to be used to neutralize any costs associated with domestic rail transport versus the import of foreign biodiesel to deep water terminals.

"Logistically, this will take a lot of planning, collaboration and buy-in from the producers all the way down the line to the terminal operators," Nazzaro said. "But once all parties are on board, the biodiesel should follow."
---
Survey Says: Biodiesel First Among Alt Fuel Fleets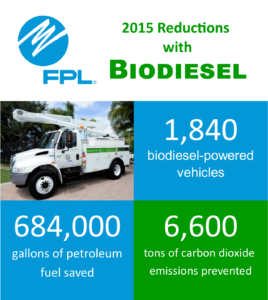 North America's top fleets have reported their number one choice for greening their fleet operations, and that choice is biodiesel. According to a 2016 Fleet Purchasing Outlook study conducted by NTEA – The Association for the Work Truck Industry – biodiesel is now the most commonly used alternative fuel option on the market.
Survey data shows 18 percent of fleets use biodiesel now – up from 15 percent in 2015. And in terms of future alternative fuel interest, biodiesel also takes top honors, with more fleets planning to acquire or continue using biodiesel than any other alternative fuel option.
Each December, NTEA conducts a comprehensive Fleet Purchasing Outlook Survey to better understand the commercial vehicle landscape, including interest levels for advanced truck technologies and alternative fuels. The new survey results for 2016 were published in March and reflect positive trends for the use of biodiesel blends in the diesel vehicle technology of yesterday, today and tomorrow.
"The evolution of alternative fuel technologies is still triggering change for vocational truck specifications," said Doyle Sumrall, Managing Director of NTEA. "However, general interest has dropped in recent years due to persistently low oil costs and will likely remain muted until prices rebound. Despite current challenges facing the alternative fuels movement, fleet interest in biodiesel has remained strong, actually increasing in 2016 as compared to the previous year."
Fleets are realizing that biodiesel continues to be an easy and cost-effective way for them to cut carbon and improve the performance and sustainability profile of their fleet operations. That has certainly been the case for the City of Moline in Illinois, which has operated its full fleet of over 102 diesel vehicles and equipment on B20, a 20 percent blend of biodiesel with ultra-low sulfur diesel, since 2006. This includes fire trucks and ambulances.

"Air quality is paramount to our quality of life," said J.D. Schulte, fleet manager for the City of Moline. "We made the switch to clean, domestically produced plant-based biodiesel ten years ago, not only because it was a good choice for our fleet, but also because it was a good choice for our community. My advice to other fleet managers is, if you are conscious of and serious about air quality and looking for an easy and cost-effective solution to make a positive difference in your community, biodiesel is a natural choice."
---
12 Billion More Cleaner Burning Miles Annually with Biodiesel, PACCAR, Peterbilt, Kenworth
By Jennifer Weaver, OEM market development manager/National Biodiesel Board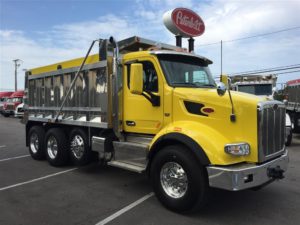 More than 100,000 trucks have joined renewable fuel ranks since major engine manufacturer PACCAR recently announced its support for use of B20 biodiesel blends (a blend of 20 percent biodiesel with 80 percent petroleum diesel) in its engines, old and new. Considering average mileage, these trucks alone have the potential to run 12 billion miles annually, and they are just the tip of the biodiesel vehicle population.
Specifically, the new PACCAR MX-11 engine and all model years of its MX-13 engine, both legacy models and new equipment, are now approved for use with B20. PACCAR diesel engines are sold in heavy duty trucks under the Kenworth and Peterbilt nameplates in North America. Peterbilt and Kenworth had already supported B20 in their medium duty truck models (PX-7 and PX-9 engine equipped), and PACCAR's latest change means there are now a total of nearly 1 million Peterbilt and Kenworth medium and heavy duty trucks approved for running cleaner and greener B20 biodiesel blends.
PACCAR's statement of support for B20 underlines that biodiesel is the single best carbon mitigation strategy out there. With widespread support across all diesel applications, the U.S. biodiesel industry is perfectly positioned to deliver even more cleaner burning biodiesel into the marketplace. The National Biodiesel Board and its members have invested over 20 years of research and development activity to provide the highest quality biodiesel fuel for the marketplace, and those efforts are paying off with continued growth in OEM support for the use of higher biodiesel blends in their equipment.
Although vehicle manufacturers don't warranty fuel, rather just their own parts and workmanship, from coast to coast nearly all now formally support B20 biodiesel blends. More than 80 percent of the diesel vehicles coming off production lines today are approved for use with B20. Notably all of Detroit's Big Three Automakers – Ford, General Motors and Fiat Chrysler – have supported high biodiesel blends for nearly a decade. And among U.S. medium and heavy-duty truck segments, which account for more than 92 percent of actual diesel fuel usage, nearly 90 percent of the OEMs support the use of B20.

For more information on how biodiesel can work for you, visit www.biodiesel.org or www.americasadvancedbiofuel.org.
---
"If You Build It, He Will Come:" Is the Heating Oil Industry Ready to Move Beyond 5 Percent Biodiesel Blends?

By Scott Fenwick, technical director, National Biodiesel Board
Sometimes progress takes time and patience. It's a revelation that those of us committed to widespread adoption of Bioheat® are forced to accept.
In 2015, ASTM International, a global standards development organization, developed the specifications and property limits for B6-B20 blends of biodiesel in heating oil. These were based upon years of work and millions of dollars or research invested by the biodiesel industry and the National Oilheat Research Alliance to determine the impacts of blending more biodiesel into today's heating oil. The limits, published and agreed to by a consensus vote of the technical committee, were determined to provide a heating fuel with appropriate performance characteristics used within equipment in place in the market. In fact, the researchers saw improved emissions and fewer fuel leaks over the baseline fuel with no negative impacts.
While the specifications are technically sound, not everyone has embraced the higher blends. ASTM International is involved with the development of global specifications and test methods, but leaves their adoption and enforcement up to others throughout the industry. Biodiesel is a low carbon, advanced biofuel that can offer fewer emissions and safer handling leading to fewer problems and maintenance with the equipment in place today.
However, not everyone has been quick to adopt these higher biodiesel blends. I realize now that the phrase, "If you build it (the specifications), he (the industry) will come" may not have had the same implications as I first thought.
For more than a year now after the revision of the ASTM D396 heating oil specifications, many have been slow to embrace the advantages provided by the use of B20. Several of the burner manufacturers and fuel pump suppliers have resisted approving their current equipment with the use of B20. Despite the research undertaken and the anecdotal evidence with current users, these equipment companies have chosen to develop and offer newer models to heating oil consumers to upgrade to. As regulations tighten on emissions, or as agencies move towards lower carbon fuels and even higher biodiesel blends, there will eventually be even newer upgrades available for purchase. Without these equipment supplier approvals, many heating oil dealers and users have been slow to adopt the changes.

Despite this position, others continue to move ahead to blaze the trail. NORA and the National Biodiesel Board continue to work cooperatively on technical projects assessing the performance of biodiesel blends. Additionally, the EPA has released their evaluation of fuels kept in underground storage tanks. Biodiesel blends up to B20 have been approved, and work is underway to educate burner mechanics and other regulatory agencies. The advantages of its use are many (Mybioheat.com), and the NBB is proud to offer support to local dealers and agencies moving towards a more sustainable, cleaner-burning fuel.
We still believe that by building a better industry, the world will beat a path to our door. We plan to keep building.
---
100 Million Impressions Strong: NORA Bioheat Campaign Yields Positive Results
By John Huber, NORA CEO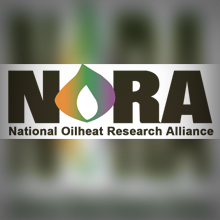 Reestablished in 2014, the National Oilheat Research Alliance has worked diligently to develop Bioheat® as the best alternative for heating customers. Its ease of use, and its ability to transition our customers to a renewable fuel future are outstanding. The retail heating industry understands this, and has dedicated countless hours to that effort.
The Bioheat movement is essentially a two-pronged attack, carried out by two partners. The two prongs are research and education, and the partners are NORA and the National Biodiesel Board.
First, NORA has developed and is working through an extensive research agenda. Developing appliances that will burn 100 percent biodiesel and will perform well throughout the winter is key to the industry's long term success. The NORA research plan will develop that future.
Second, NORA believes that a product only reaches its full potential if the customer knows how good it is! To that end, the Board of Directors of NORA decided on an aggressive outreach campaign. This $1 million effort was designed to supplement approximately $1 million spent by the states to support Bioheat and the heating oil industry. This effort occurred in all of the heating oil states, and utilized the power of the internet. The campaign demonstrated people's interest in Bioheat with a very strong click-through rate.
The internet campaign featured search engine optimization, social media such as Facebook, and programmatic displays. This campaign resulted in nearly 100,000,000 impressions. While click through was not essential to the campaign, NORA was particularly pleased that over 600,000 people took the time to find out more information about Bioheat and heating their home.

It is very exciting to have a strong product, a combination of low sulfur fuel and renewable Bioheat, to have a low price to attract consumers, and the resources of NORA in place to highlight and tell the American public this great story. As the country and the states confront the challenges of global warming, the dealers are excited to have a product that responds to policy makers and consumers.
---
Bioheat® Ad Campaign Delivers Hot Results in New England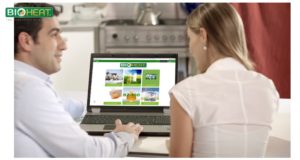 As the latest Bioheat® Consumer Communications and Advertising program draws to a close, campaign organizers are confident the results topped last year's campaign. The 2016 balanced advertising campaign resulted in investments made with broadcast television through CBS Channel 4 in Boston, and iHeart Media in Connecticut, Rhode Island and New York City. CBS in Boston produced a :30 second commercial as well one :15 second radio spot on WBZ A.M.
CBS Boston did a tremendous job with placement of the Bioheat commercial, weaving it throughout Late Night with Stephen Colbert, CBS Evening News, Jeopardy, and The Phantom Gourmet.
CBS also developed a unique grassroots campaign called "Volunteers of America" in which Bioheat teamed up with VOA to provide heating assistance to men, women and families in need this winter season. As part of this program, Bioheat funding has supported more than 125 current and former VOA clients since the start of February 2016. In Massachusetts, VOA provides services to veterans, at-risk youth, adults in recovery, elderly in need of housing and those in need of mental health services.
Overall, CBS Boston's campaign generated over 80 million television impressions and 1.8 million radio impressions. Massachusetts Energy Marketers Association run by Michael Ferrante continued the campaign after the National Biodiesel Board's concluded. MEMA's television campaign is estimated to have delivered 5.3 million impressions on top of NBB's 80 million, for a total of 85.3 million impressions.
As the commercials aired, iHeart Media produced three radio spots for Bioheat using eight FM stations across the Rhode Island, Connecticut and New York City markets. This campaign reached 7 million unique listeners ages 25+ in Providence, Hartford and New York City—all epicenter regions for the largest amount of home heating oil consumption.
Included in the campaign was the Bioheat Fuel "Cell Phones for Soldiers" program, which is a national nonprofit organization dedicated to providing cost-free communication services and emergency funding to active-duty military members and veterans. Since its inception in 2004, Cell Phones for Soldiers has provided more than 216 million minutes of free talk time, recycled more than 11.7 million cell phones, reducing impact on landfills, and the program mails approximately 1,500 calling cards each week.
Bioheat will also partner, for the second year in a row, with The Great Outdoors Pursuit in Providence from May through August 2016. Promotional items, brochures and announcements on the radio will be distributed throughout the events. Once again, this will keep "Bioheat" in front of the consumer before, during and after the actual radio buy, helping to sustain a market presence.
Several state oilheat leaders demonstrated cost sharing in extending the aggregate media buy: Chris Herb/Connecticut Energy Marketers Association, Rocco Lacertosa/New York Heating Oil Association, Michael Ferrante/Massachusetts Energy Marketers Association and Roberta Fagan of Oilheat Institute of Rhode Island.
All radio and television spots can be found on the blog page of www.mybioheat.com.
"Based on this investment, we are confident that we orchestrated a well thought-out advertising program with the focus of all activities being waged in the highest volume heating oil states," said Paul Nazzaro, NBB's Bioheat program manager, who oversaw the campaign.
---
Upcoming Events

Vermont Fuel Dealer Conference, Trade Show and Golf Tournament
May 19-20
The Equinox Resort, Manchester, VT
www.vermontfuel.com
Eastern Energy Expo
May 24-25
Foxwoods Resort & Casino, CITY, CT
http://easternenergyexpo.com

NEFI Visions Conference
June 14-15
DCU Center, Worcester, MA
www.NEFI.com
Maine Energy Marketers Association 62nd Annual Convention
June 26-28
Spruce Point Inn, Boothbay Harbor, ME
www.MaineEnergyMarketers.com